Classical Guitarist Ming Huang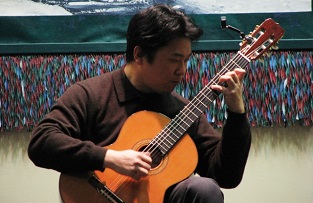 Graduated from Jinling/Quanyin Music School (Major in Classical Guitar Performance) in Nanjing, China, Ming Huang has studied with Mr. Yu Benshan and Mr. Zhou Jianshi, before he started performing classical guitar music on the stage. Ming also attended master classes and workshops of various guitarists, such as David Tanenbaum (in Beijing, China), and Jan de Kloe (in Vancouver, BC), etc.
Currently Ming is the director of Burnaby Guitar Stuio, an RCM Certified Teacher, a member of R.G.T (Registry of Guitar Tutors), a director of the Vancouver Classic Guitar Society (Canada) (2008-2015), and a honored member of Nanjing Guitar Society (China). Ming teaches and perform guitar music in Vancouver area. He also adjudicated many guitar events such as the Student Guitar Day in Vancouver, the admission audition for guitar students in universities and colleges in Canada and China, as well as various festivals and competitions in China. Since 2010, Ming's student passed various grades in Royal Conservatory of Music Examinations, as well as won silver medal, many first prizes in Vancouver Kiwanis Music Festivals, and golden medal in British Columbia Conservatory of Music Festival.
Classical Guitar Recital
Besides teaching, as a classical guitar performer, Ming presents a modern expression to all types of music: Renaissance, Baroque, Classic, Romantic, Contemporary, Jazz, Folk…
What others are saying…
"Ming's melodic playing created a soothing ambience for our Art Exhibition. He's an extraordinary musician, with great instinct."- Ali Cumming, Programmer, Arts & Culture, City of Port Coquitlam, BC
"Ming's music was a gift to all who listened to his performance on the evening of March 18th, 2011.
Lovingly crafted and beautiful to the ear, the Spanish melodies and rhythms floated in the air and landed in our hearts.
Ming is a humble man with a great musical gift. Thanks for sharing your music with us."- Lori Pederson, Master of Ceremonies at the Sharing Cultures Night Dinner
"Thank you for being part of this years "In the House Festival".
Your performance was sublime and we hope you enjoyed it a much as we did."- Myriam Steinberg, In the House Festival

Ming's Guitars
Ming owned various guitars in my career of playing and teaching guitar. From very cheap guitar from China in the early days to the concert guitar recently built with the finest wood from the beautiful British Columbia. Here are his main guitars for now.
Blackwell Double-top Concert Guitar
Double-top structure is a relatively new technique which was originally developed by Matthias Dammann, and the technique is borrowed from ultra light aviation technology. Unlike the traditional single solid top guitar, Double-top is built by a combination of a honeycomb fiber sandwiched between two very thin soundboards. The structure dramatically reduces the weight but retains the necessary stiffness. The result is very responsive and powerful instruments opening up a great dynamic range. It is also called "sandwich top". Compared with most of the traditional concert guitars, double-top guitar provides much better volume and projection, better resonance, more rich harmonics, and solid tone. The bass is very strong and the trebles are bright and clear like a piano. Double-top guitar also has better playability because of the excellent resonance. More and more virtuosos play double-top guitars, such as David Russell, Manuel Barrueco, etc.
With spruce-cedar double top (French polish) and Indian rosewood back and side, this Blackwell guitar is one of the best concert guitars in Canada. The tone is rich and decent with a excellent bass/treble balance, like a Dammann guitar. The resonance and the projection are very strong, especially for the bass, and the trebles above the 12th fret are very good. Ming actually played it with a upright piano and the audience can still hear the guitar clearly.

Ten-string Classical Guitar from China
A friend in China built this nice guitar for Ming.
With spruce top (French polish) and Indian rosewood back and side, this guitar produces a bright and clean traditional Spanish sound, as well as very good extensions.


---
Recent and Upcoming Venues
VCGS Winter Concert, 7:00 pm, Feb 9, 2014(Spirit of Life Lutheran Church, 375 W. 10th Ave, Vancouver)
Mini-concert by Ming Huang, 1:00 pm, July 21, 2013(Arbutus Music Academy, B5-4255 Arbutus Street, Vancouver)
Introduction of Italian Guitarists and Compositions in VCGS Social, 2:00 pm, Sept 23, 2012(Arbutus Music Academy, Vancouver)
VCGS Annual Open Stage and Concert, 3:00 pm, July 17, 2012(Quaker Meeting House, Vancouver)
VCGS Holiday Concert, 7:00 pm, Dec 10, 2011(Quaker Meeting House, Vancouver)
South Burnaby Neighbourhood House, Sharing Cultures Night in Edmonds, Brazilian guitar music by Heitor Villa-Lobos, Jose Oliveira Queiroz, etc, 6:30 pm, June 10, 2011(Gordon Presbyterian Church, Burnaby)
In House Festival Recital, Guitar music by J.S.Bach, Heitor Villa-Lobos, F.Tarrega, E.Granados, etc, 4:00 pm, June 4, 2011(1994 William St, Vancouver)
VCGS Annual Open Stage and Concert, 5:30 pm, May 29, 2011(St-James Community Hall, Vancouver)
Introduction of Romantic Music in VCGS Social, 2:00 pm, May 15, 2011(Arbutus Music Academy, Vancouver)
South Burnaby Neighborhood House, Classical Guitar Performance in Sharing Cultures Night in Edmonds, 6:30 pm, March 18, 2011(Gordon Presbyterian Church, Burnaby)
City of Burnaby Summer Sundays Program, Classical Guitar Solo Recital, 3:00 pm, July 18, 2010 – (Civic Square, Burnaby)
Vancouver Classic Guitar Society, Open Stage 2010, 7:00 pm, June 13, 2010 (Quaker Meeting House, Vancouver)
Adjudicating VCGS 1st Annual Student Guitar Day, Nov 28, 2009 (Quaker Meeting House, Vancouver)
Music for Wedding, Sept, 2009 (VanDusen Botanical Garden, Vancouver, BC)
"Summer Sundays" Guitar Recital, July 12, 2009 (Civic Square, Burnaby, BC)
Vancouver Classic Guitar Society, Open Stage 2009 (Quaker Meeting House, Vancouver)
Performance at Tipper Restaurant and Review Room (Vancouver)
the Vancouver Classic Guitar Society Winter Concert 2009 at Quaker Meeting House (Vancouver)
Classical Guitar Private Concert at Louise Brier (Vancouver)
Exhibit BodyWork at Gathering Place at Leigh Square (Port Coquitlam)
Summer Sundays at Civic Square (Burnaby)
Classical Guitar Private Concert at Kopernik Lodge (Vancouver)
Vancouver Classic Guitar Society, Open Stage 2008 (Quaker Meeting House, Vancouver)
Mother's Day Performance at Langara RehabAspen (Vancouver)
"Baroque and Romantic Classical Guitar Programme" at Roedde House Museum (Vancouver)
the Vancouver Classic Guitar Society Holiday Concert 2008 (Subud Centre/Capri Hall, Vancouver)
Classical Guitar Recital at St. Michael's Centre (Burnaby)
Music Time for Columbus Long Term Care Society (Vancouver)
Classical Guitar Concert in George Derby Center (Burnaby)